Hotels: how to care about active tourists?
With more environmental aware people traveling across the globe, eco tourism is a fast growing industry. Hotels wonder how to capitalize on eco-active travelers who prefer to avoid shared centers to stay socially distant.
One of the smart ideas is turning a hotel room into an eco fitness gym by equipping it with professional machines and devices.
While traveling leaves a heavy mark on global CO2 emission level almost 90% of the travelers want to contribute to clean air. GIPARA may have a solution or two that would help reduce both carbon dioxide footprint and travelers' guilt.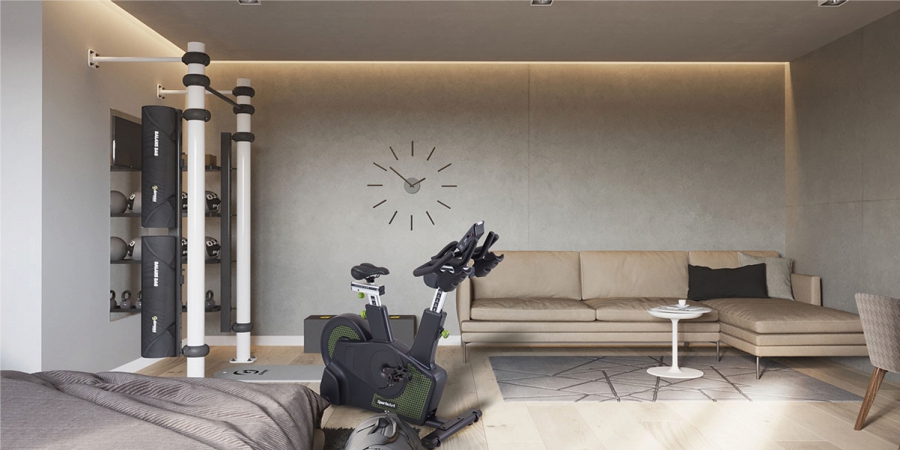 The latest premium cardio equipment SPORTS ART ECO-POWR™ integrates innovative technology that harnesses and convert human energy into usable electricity. A conscious traveler may now recycle burned calories on a cycle into energy that is then transmitted to the hotel electrical grid.
When it comes to a functional training G-WALL in a hotel room seems indispensable. G-WALL has been designed to fit into an average hotel room. Usually the area of the hotel rooms does not exceed 30 m2. This space will successfully accommodate a bed, desk, wardrobe and GIPARA G-WALL to workout. G-WALL is a device that provides a possibility to train all parts of the body and occupies less than 1m2 of space.
GIPARA designed G-WALL to match each room with its style. All areas are smooth and rounded in touch. The best and most durable materials have been used to build this product: steel and polyurethane are practically eternal, odorless and easy to be maintained in cleanliness. G-WALL comes in 4 color options and 4 equipment versions which will enable adjusting the accessories to the desired needs.
Hotel managers may argue that they would have to raise prices per room furnished in safe and green fitness equipment. Possible, but please bear in mind that 75% of millennials tend to book those accommodations which are eco friendly and are willing to pay more to get sustainable offers. Investing in G-WALL and SPORTS ART ECO-POWR™ machines would mean a higher ROI, lower electrical bills and higher ranking on Trip Advisor.