What are pro instructors saying about G-WALL app?
Kinga Borkowska, fitness instructor Gdynia, Poland
My clients are asking me how to continue training while travelling or while working out at home when there is no professional equipment around. Instead of searching YouTube they can just download G-WALL app to get a professional help on training. The app contains 27 detailed training plans that are dedicated to specific body parts or accessories. A user can choose their advance level as well as time of workout. With G-WALL app a user is sure to get an expert level training for various body parts.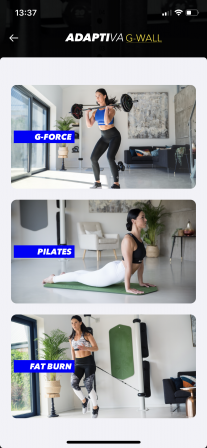 Bartek Skowroński, fitness instructor, Gdańsk, Poland
I find G-WALL app very effective for users who work out with Adaptiva G-WALL. Together with a number of accessories like gym ball, Balans Bag, Space Stretch or a mat they can participate in highly professional training programs that are dedicated to specific accessories. No need to attend a fitness club, with G-WALL app a user receives everything that is necessary to work out!