23.01.2020
Exercise gums are fitness accessories that are among the most popular on the market. This is due to several factors. It regards, among others about their price, variety of applications, as well as the availability of advice and training on the Internet. However, as it turns out, their use is not so simple. For example, many people do not know how to tie exercise gums. Fortunately, simpler, but also more professional solutions appeared on the market.
Exercise gum - what it gives and which to choose
Let's start with the basic issue - naming. It's about the difference between gum and exercise tape. When completing accessories for a fitness club, you should think about which ones you really need.
Let's start with tapes - they also often function as fitness tapes or pilates tapes. They are intended primarily for people who do not have much experience. Instead of wondering how to effectively exercise at the gym, what weights should be squeezed to start with, in the end instead of spending large sums immediately on a personal trainer or a gym pass for several months, etc., you can simply try your hand with tape. If it turns out that you become addicted to exercise and can no longer imagine the next days without activity, then you can take the next step.
Tapes are often the basic equipment of rehabilitation rooms or pilates instructors. First of all, they allow you to strengthen your muscles.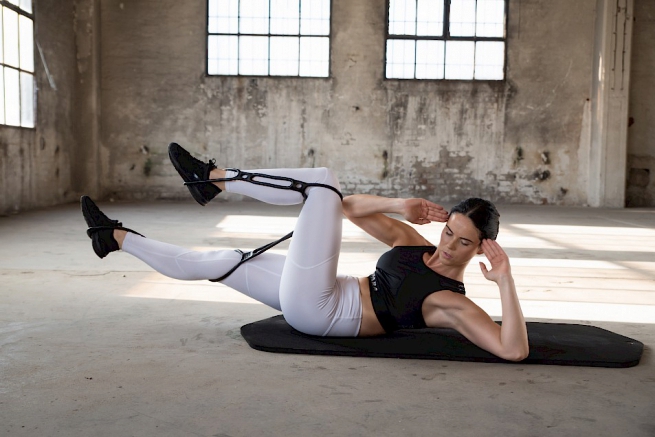 The next group are the gums themselves, and more specifically the resistance gums, which can be generally divided into those for strength training and mini bands. These are very popular fitness accessories eagerly used by personal trainers. They help in exercises constituting an additional burden. The principle of their operation is the same, but the type of mini bands, due to lower resistance, is more often used by women.
When talking about gums, it is also worth mentioning two more types. First of all, it's about expanders, in other words - gums with handles. TRX training tapes, which are used for suspended exercises, are also common.
Exercise gums - how to tie to avoid injury
Let's get back to the gums and seemingly simple question - how to tie exercise gums. Of course, it seems that they are "handled" banally. Just stand on it, kneel down, grab the other end, or even both at the same time and stretch using the resistance they place. What's so hard about it? In fact, it's worth learning the basic principles so that these fitness accessories really support our workout and don't lead to injury.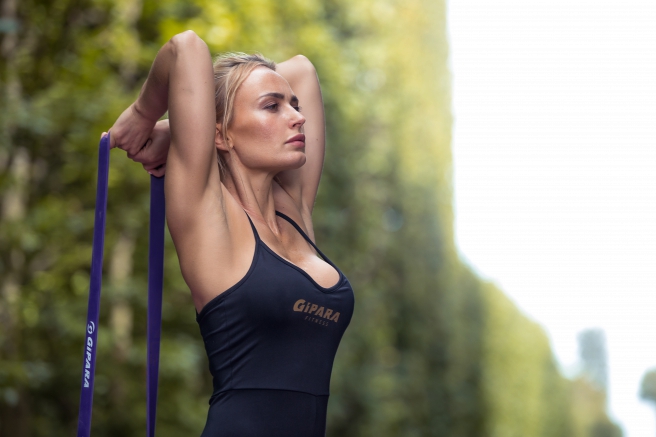 When using popular exercise gums, remember to distribute the load evenly. Unfortunately, only professional gums have special joints or fixings that allow you to easily find their center, or intermediate fragments. It is thanks to them that we can evenly distribute the resistance that the gum will place or intentionally increase it in a specific place and time. This in turn will allow us to avoid injury, but also properly prepare for training.
How to exercise effectively at the gym with rubber
Only the right distribution of resistance to the exercise gum will make the workout really work. Of course, you can use, for example, one of the movies, which a lot can be found on the Internet. However, there are a few things to keep in mind.
First, always use a trusted source. We do not recommend accidental video blogs, which are often run by people who are not properly prepared. Many of them boast that the daily gym in the morning and evening gave them a huge experience, which is confirmed by showing a muscular body. All this in turn gives them the right to suggest, for example, how often to exercise in the gym, so that there are effects and what specific exercises to choose.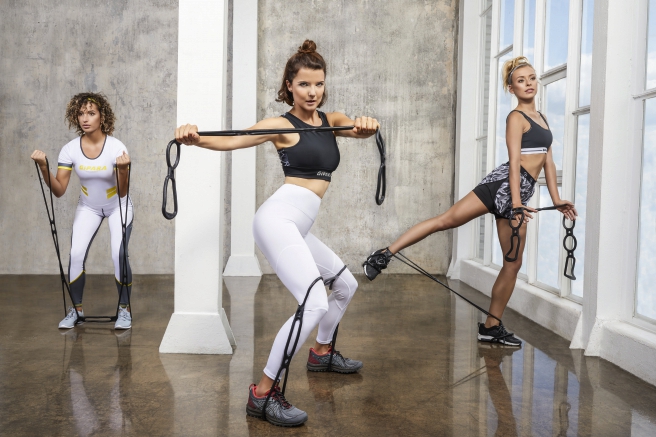 In fact, their advice can, at best, lead to ultimate discouragement from exercise, and at worst, even injury. Therefore, if you are thinking, for example, how to tie exercise gums and what weights to choose at the beginning of the adventure with this device, it is better to use the advice of professional trainers. Their advice can also be found on the Internet, often on the websites of companies that manufacture fitness accessories.
If we rely on such trusted sources, we will avoid all problems.
Exercise gum - which gives you the right training
If we master the basics, we will include know how to tie exercise gums and how to use them properly, they can quickly become our favorite fitness accessories. Uniform increase in muscle mass without burdening the joints, the ability to adjust the load even during exercise, the availability of training, etc., all this is allowed by exercise gum - which also gives stabilization of the whole figure. If we consider fitness accessories, it definitely belongs to the most popular and most used in training.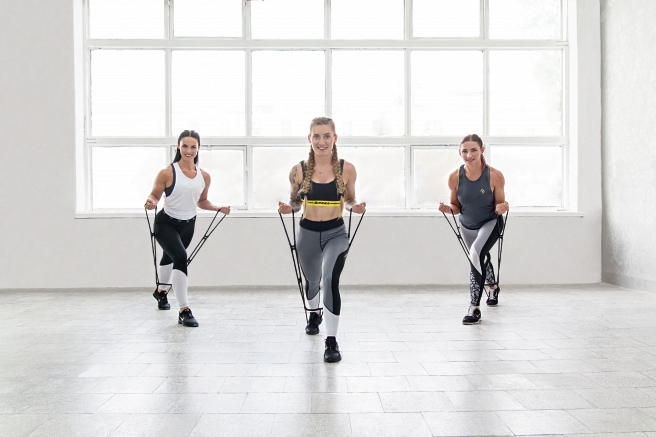 Before buying exercise gum, however, you should think about which offer to use. As we have already mentioned, there are many different types of this device on the market. In addition, a few months ago a novelty appeared - Space Stretch Mini and Space Stretch Max. This equipment was designed by professionals who after many trials and tests finally presented the right version. It was created as a tool for astronauts who use them for weightless exercises. In addition, there are many videos prepared by professional trainers on the Internet that show how to use its possibilities.
Space Stretch Max is a device that will soon completely replace traditional exercise gums.